Promo !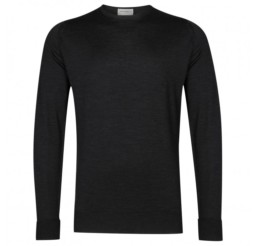 Ce pull gris anthracite doté d'un col rond est un classique pour tout homme de goût. 100% laine mérinos extra fine, il vous tiendra chaud et préservera une brillance très luxueuse. Nous avons sélectionné ce produit chez la marque anglaise John Smedley, experte de la maille de très bonne qualité. Cette maison reconnue par les meilleurs acteurs de l'industrie textile est une valeur sûre.
Ce pull possède un col rond ras-du-cou, vous pouvez le porter aussi bien sur un t-shirt que sur une chemise, pour un rendu plus preppy et/ou même avec un blazer.
➤ Découvrir tous les produits John Smedley
À propos de John Smedley
John Smedley
Heritage:
We are creators of the World's Finest Knitwear. Established in 1784, we are the oldest manufacturing factory in the world, crafting beautiful, high quality garments that are designed to last, made in Britain and distributed the world over.
Our History…
The John Smedley story began during the infancy of the industrial revolution at our factory in Lea Mills, Derbyshire where you can still find us, over 230 years later.
In 1784 our factory started life producing simple muslin fabric and spinning cotton and in 1825 we moved on to producing more complex garments using one of the first ever fully fashioned knitting machines, creating the original "Long Johns".
Moving onto 1914 where we began exporting to the far reaches of the globe and over time established ourselves as one of Britain's most famous clothing brands.
Within the 1950's and 60's we became the brand of choice for many famous faces, including Marilyn Monroe, Audrey Hepburn and the Beatles amongst many others and by 1980 we had established ourselves as the go-to knitwear brand for British designers such as Dame Vivienne Westwood and Sir Paul Smith.
The year 2000 saw us open our first store on the iconic Brook Street in Mayfair, London and in 2012 we cemented our style credentials by presenting at London Collections: Men, the first ever British Men's Fashion Week. The following year we were granted the Royal Warrant of Appointment as a "Manufacturer of Fine Knitwear" by Her Majesty Queen Elizabeth II, a testament to our trusted quality.
Today we continue to innovate and recent triumphs include the re-launch of our womenswear line at London Fashion Week in 2015, and our contemporary new unisex capsule collection 'Singular' being the first ever unisex knitwear collection launched within the UK.
Made in Great Britain…
We're proud to have "Made in Great Britain" on the tag of every garment we make. John Smedley has remained a British, family run business, now managed by Ian Maclean an 8th generation member of the Smedley family.
Luxurious Quality & World Renowned Craftsmanship…
We only use the finest quality materials including John Smedley's Sea Island cotton, extra fine Merino wool, cashmere and silk. Each garment is carefully created using 1.5km of the finest yarn, 1.2 million stitches, 230 years of experience and the skilled hands of 50 British craftsmen.
Our Style…
Our iconic style spans from our "Mainline Collection", including our best selling polo shirt, unchanged since 1932 right through to our recent unisex capsule "Singular". We strive to produce the highest quality garments with a contemporary look that will transcend generations.
Livraison & retours
POLITIQUE DE LIVRAISON ET RETOURS
Les articles sont expédiés sous 1 à 2 jours. Le délai de livraison en France est estimé entre 2 et 5 jours via Colissimo.
Les frais de port sont de 8€ en France et 15€ pour le reste de l'Europe. À partir de 120€ d'achats sur une même commande, les frais de ports sont offerts.
Tout produit commandé en ligne peut être retourné, pour échange ou remboursement sous 14 jours à compter de la date de réception, à condition qu'il n'ait été ni  porté, ni endommagé.